24 Fibers MTPMPO to 12x LCUPC Duplex Cassette, Type A
Product Detail
Product Tags
The RaiseFiber MTP/MPO Breakout Cassette is a pre-terminated, factory tested, modular system that provides simplified installations in the field. Breakout cassettes offer a reliable access point for MTP/MPO backbone cables to convert over to individual duplex LC connectors. Utilizing pre-terminated cable assemblies and patch cables in conjunction with breakout cassettes allow for simplified cable management, fast deployment, and easy access during network upgrades.
When deploying an MTP/MPO Breakout Cassette in a network, it is critical to match the connectivity type of the module to the other components (breakout cassettes, patch cables, and trunk cable) that are used within the link. Common connectivity methods are referred to as Type A, Type B, and Type C and each require a pair-wise flip at some point in the link. RaiseFiber MTP/MPO Breakout Cassettes are built with Type A connectivity methods unless otherwise noted.
MTP/MPO Breakout Cassettes feature an LGX mounting footprint and are compatible with RaiseFiber rack and wall mount patch panels and interconnects.
| | | | |
| --- | --- | --- | --- |
| Fiber Count | 12 Fibers | Fiber Mode | Single Mode/ Multimode |
| Front Connector Type | LC UPC Duplex (Blue) | No. of LC Port | 6 Ports |
| Rear Connector Type | MTP/MPO Male | No. of MTP/MPO Port | 1 Port |
| MTP/MPO Adapter | Key up to Key down | Housing Type | Cassette |
| Material of Sleeve | Zirconia Ceramic | Material of Cassette Body | ABS Plastic |
| Polarity | Type A (A and AF used as a Pair) | Dimensions (HxWxD) | 97.49mm*32.8mm*123.41mm |
| Standard | RoHS Compliant | Application | Matching for Rack Mount Enclosures |
MPO/MTP Connector

MM Standard

MM Low Loss

SM Standard

SM Low Loss

Insertion Loss

Typical

≤0.35dB

≤0.20dB

≤0.35dB

≤0.20dB

Max

≤0.65dB

≤0.35dB

≤0.75dB

≤0.35dB

Return Loss

≧25dB

≧35dB

APC≧55dB

Durability

≤0.3dB (change 1000matings)

≤0.3dB (change 500matings)

Exchangeability

≤0.3dB (Connector randomly)

≤0.3dB (Connector randomly)

Tensile Strength

≤0.3dB (Max 66N)

≤0.3dB (Max 66N)

Vibration

≤0.3dB (10~55Hz)

≤0.3dB (10~55Hz)

Operation Temperature

-40℃ ~ +75℃

-40℃ ~ +75℃
Generic Connector Performance
LC, SC, FC, ST Connector

Singlemode

Multimode

UPC

APC

PC

Maximum Insertion Loss

≤ 0.3 dB

≤ 0.3 dB

≤ 0.3 dB

Typical Insertion Loss

≤ 0.2 dB

≤ 0.2 dB

≤ 0.2 dB

Return Loss

≧ 50 dB

≧ 60 dB

≧ 25 dB

Operating Temperature

-40℃ ~ +75℃

-40℃ ~ +75℃

Test Wavelength

1310/1550nm

850/1300nm
● Customized Fiber Type and Connector Port;
● Customized MPO MTP connector, with pin or without pin optional
● Each box can hold 12port or 24port LC adapters;
● MTP/MPO Adapter, LC Multimode Adapter, and MTP/MPO to LC multimode Optical Patch Cord
● Multimode OM1/OM2/OM3/OM4/OM5 fiber cable
● Cassettes can be easily mounted on the patch panel, designed for MPO/MTP ultra high-density panel system
● 100% tested for low insertion loss performance and high return loss
● Simplifies cable management and allows for higher density
● Tool-less Installation for Fast Wiring
● Labeled to Identify Channel, Wiring, and Polarity
● RoHS compliant
12 Fibers MTP/MPO to 6x LC/UPC Duplex Single Mode Cassette, Type A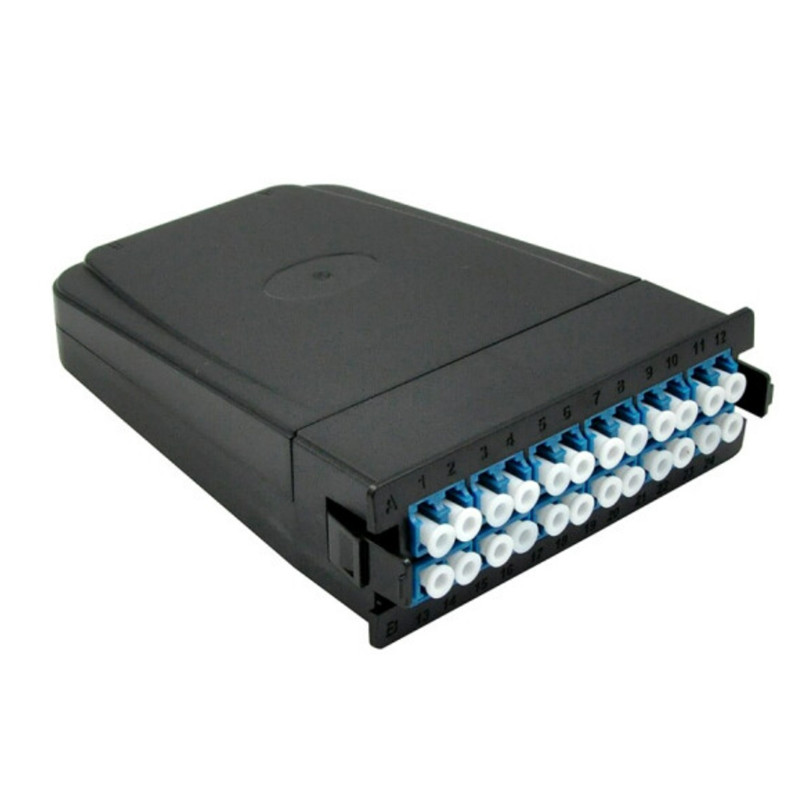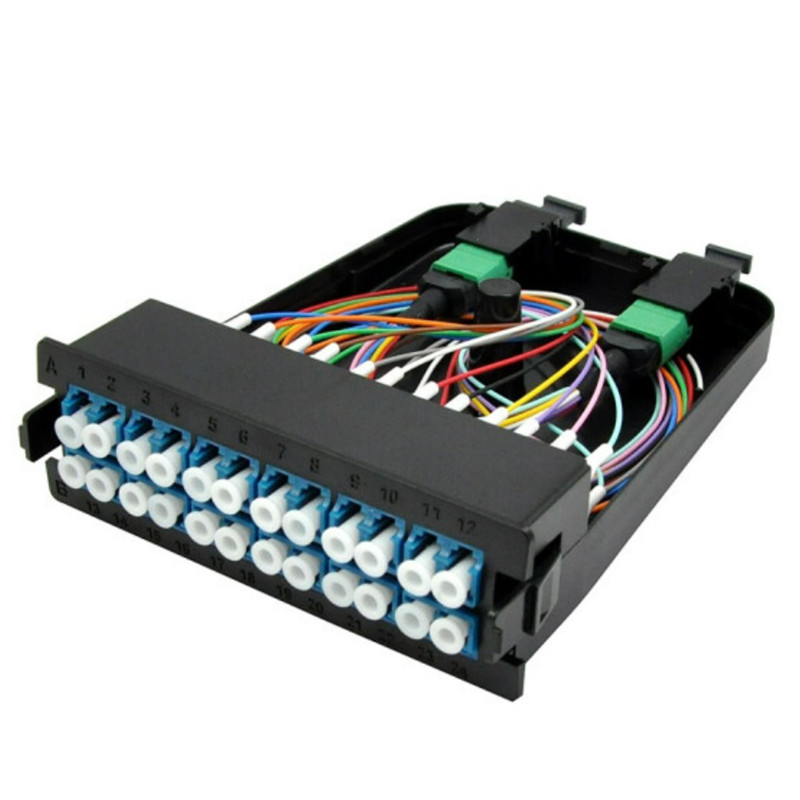 24 Fibers MTP/MPO to 12x LC Duplex Multimode Cassette, Type A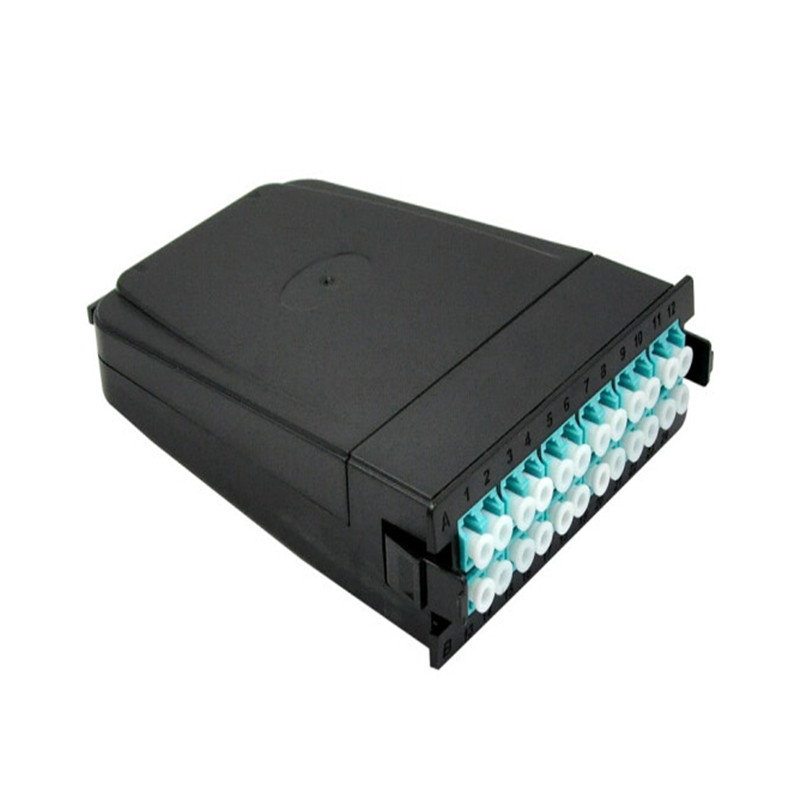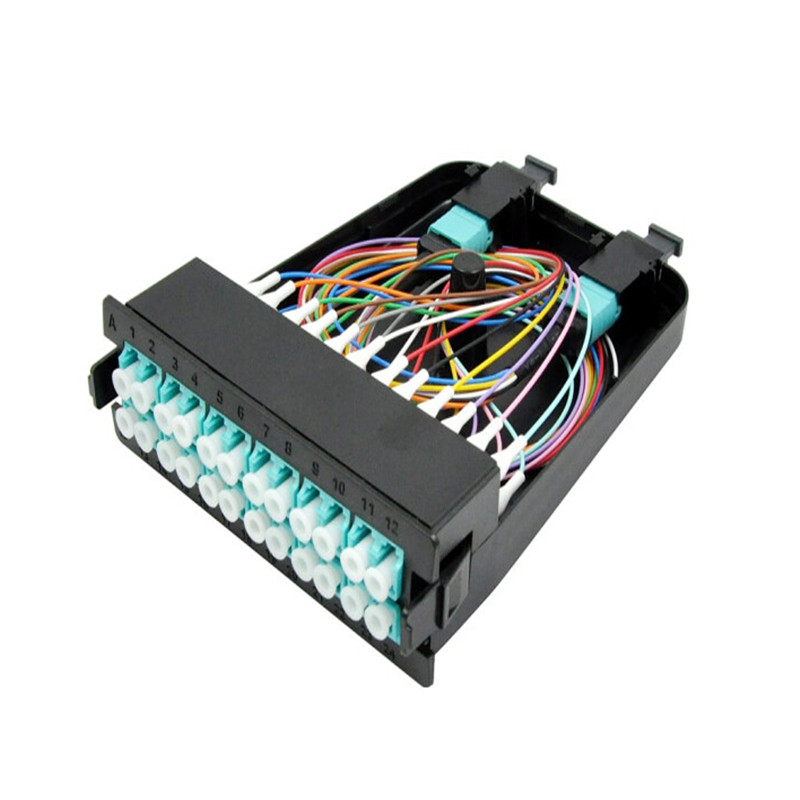 Veratile Solutions for Different Patching System

Rapid Deployment and Tool-less Installation
For additional flexibility, you can mount the cassettes in our rack mount or wall mount enclosures, and this scalable designs can grow with your network system.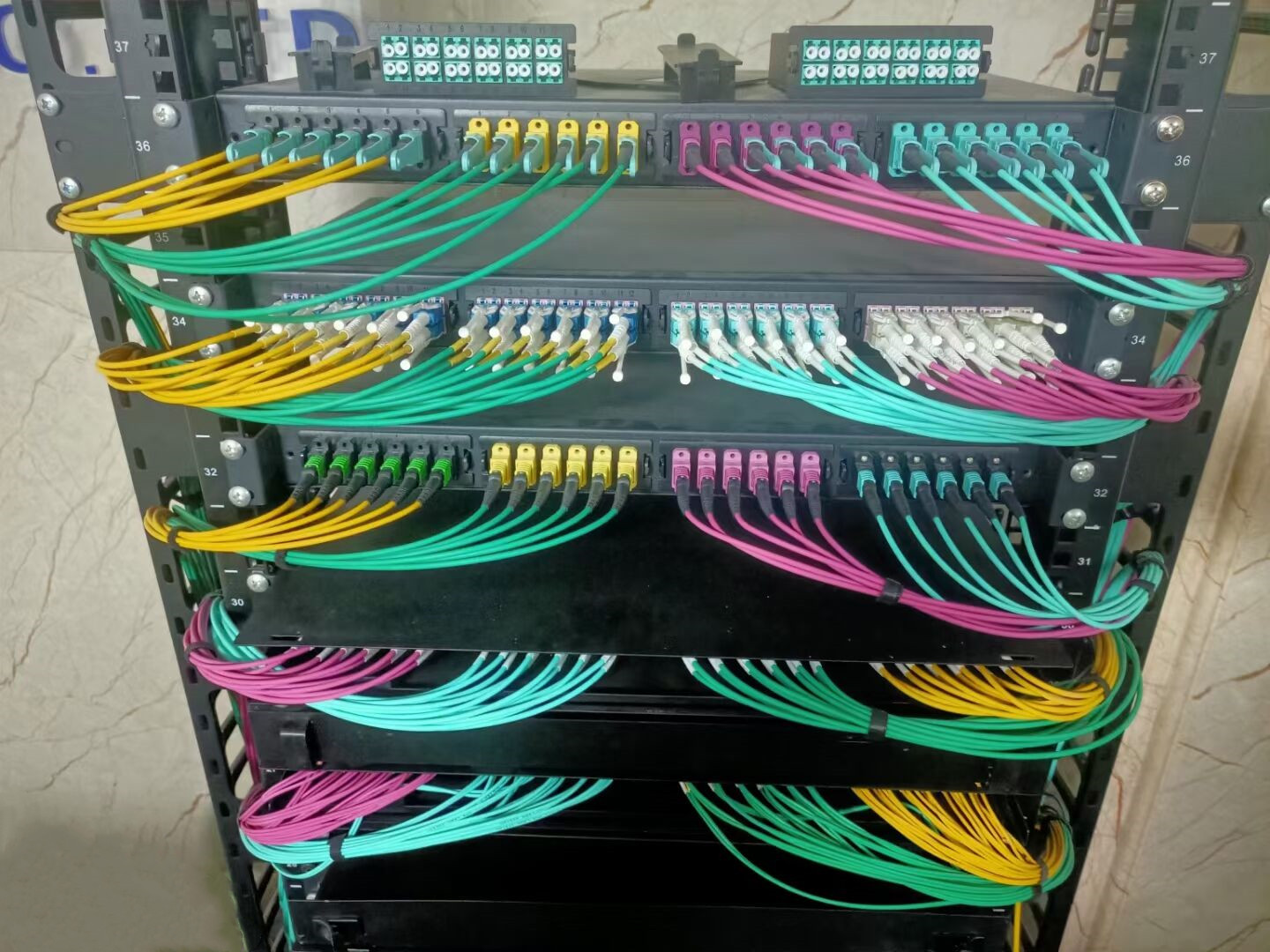 ---
Next:
Fiber Adapter Panel, 6 Fibers Single Mode/Multimode, 6x SC/ST/FC UPC Simplex Adapter, Ceramic Sleeve
---
Write your message here and send it to us